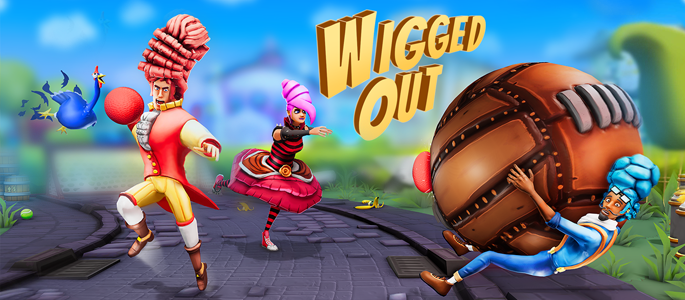 Description
Wigged Out is a historically inaccurate party game with a unique take on dodgeball. Face your rivaling school in a fierce and hilarious ball game, where the main objective is to move a big ball to the opponents' goal line by using every trick in the book. This is done by throwing whatever item you can find on it. If you should happen to miss the big ball, you may accidentally realize that these items work just as well on other players! Sending your opponents flying with an explosive keg or slapping them across the face with a rubber turkey is just a couple of the many strategies you may employ during a match. Be wary though as humans aren't the only threat out there; Watch out for fire hydrants and manholes ready to burst at any moment, or the school mascot goat that found its way onto the pitch and is attacking anything in its path! These and other environmental hazards could be lurking around the corner.
Features
Online and Local 2-4 Players
6 Characters with unique abilitys
100+ arenas set in 6 different Settings
25+ items and interactables
---
Videos!
---
Images
---
Logo & Icon
There are currently no logos or icons available for Wigged Out. Check back later for more or contact us for specific requests!
---
Additional Links
---
About Encircle Games
Boilerplate
Encircle Games is a Norwegian indie game company consisting of 6 passionate game developers in Hamar, Norway.
More information
More information on Encircle Games, our logo & relevant media are available here.
---
Wigged Out Credits
Contact
---
presskit() by Rami Ismail (Vlambeer) - also thanks to these fine folks